EVLON® Compostable Packaging - Our Film Is Here
Imagine If Your Packaging Was Compostable!
Which EVLON® Product Is Right For You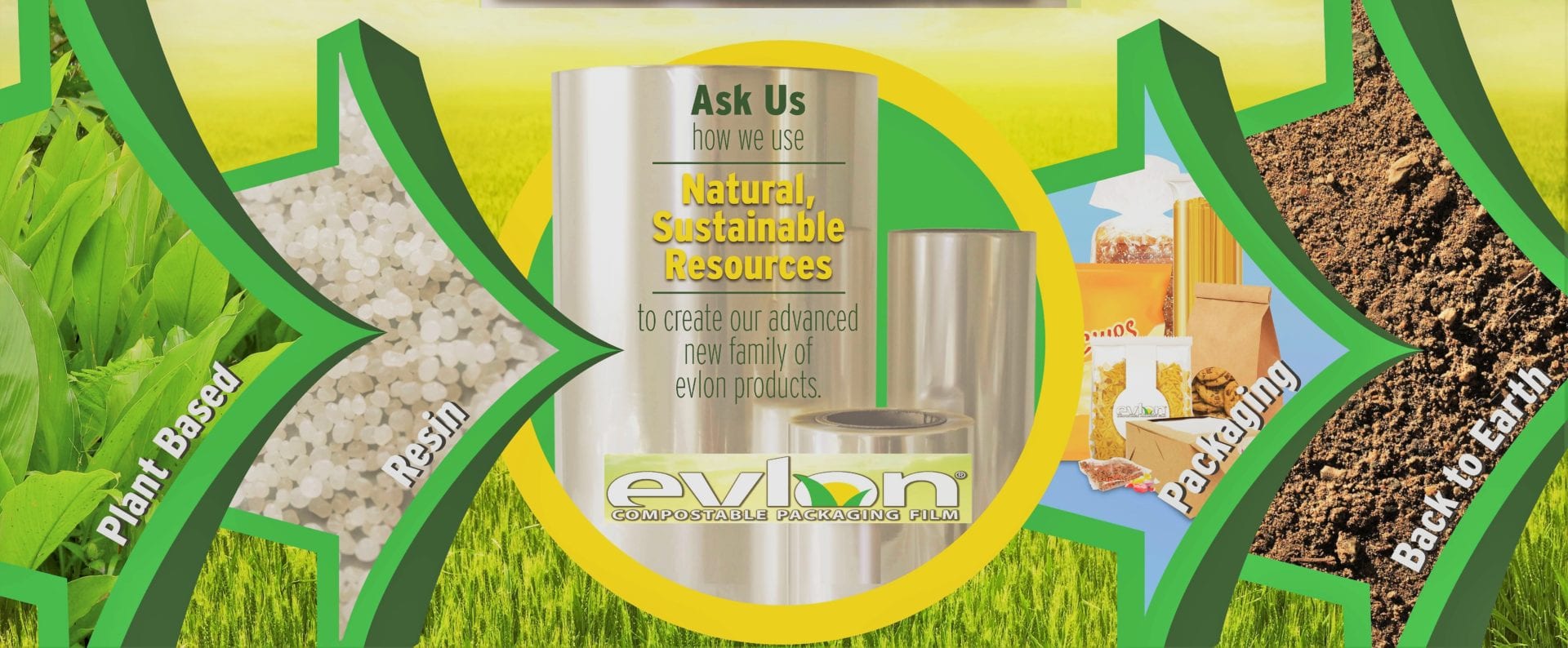 Ready To Go Green?...EVLON'S Got You Covered!
If you′re ready to put your brand in step with consumers, EVLON®'s got you covered. Introducing the first clear film made from plants that is ready to replace current plastic films... right now.
If you′re looking at taking measures to reduce the environmental impact of petroleum-based plastics on the environment, EVLON® Compostable Plastic film has the performance characteristics of current plastic film, but it′s completely industrially compostable.
Made from annually renewable resources, EVLON® will let you send a clear message to the world that your company is a leader in product stewardship.
EVLON® Compostable Plastic film is available in roll widths from 6" to 90" and thicknesses ranging from 0.80 mil to 12 mil.
Contact us for complete technical specifications.
One Side Heat Sealable Film
Plain Film - 20 to 100 Micron
Plain Sheet - 250 to 300 Micron
Paper or Plastic...or EVLON®
The new era of social conscience plastic is here, now. So what does that mean for you and your company?
Are there opportunities to increase your share? Retailers, legislators and consumer preference will mandate that you find an environmentally friendly alternative to oil-based plastic packaging... and EVLON® Compostable Plastic film is the natural choice!
With EVLON® Compostable Plastic film, made from NatureWorks® bio-polymer, you have the option of migrating from oil-based film to plant-based film at a reasonable price and with comparable performance.
EVLON® eases your transition into bio-responsible packaging.
It offers the properties you want in a transparent film like excellent deadfold, high clarity, gloss, flavour and aroma barrier and high stiffness.
It′s excellent for pressure-sensitive labels.
With it′s unique physical properties, EVLON® is the ideal, environmentally friendly alternative for packaged goods, bakery, confectionery, fresh produce, meats, poultry and flower wrap.
How is EVLON® film made? Quite simply...
NatureWorks® bio-polymer, the polylactide resins used to make EVLON® Compostable Plastic Film are manufactured by NatureWorks LLC, a stand alone company wholly owned by Cargill. Through a series of fermentation and extraction processes, plant-based sugar molecules are transformed into lactide monomers and then ultimately, into NatureWorks® bio-polymer pellets. The pellets are then converted into EVLON® Compostable Plastic film by BI-AX International. 
 EVLON® Compostable Plastic Film, made from NatureWorks® bio- polymer, is a crystal clear film that offers a exceptional stiffness, strength, outstanding twist retention and deadfold. It possesses high energy surfaces for printing, offers a very good flavour and aroma barrier, as well as resistance to water, grease and oils. The film is available in a sealable version that seals at lower temperatures than most OPP films. Truly, a plastic film that is unlike any other film!